On June 28, JA New York was thrilled to host a webinar with Jewelers Board of Trade (JBT) President, Erich Jacobs to discuss the Current State of the Industry. Erich shared with the audience current economic conditions and spending behaviors, his thoughts on Lab Grown diamonds, what's happening at retail, the importance of continuing to work towards greater diversity, equity and inclusion among BIPOC, and more. Here's a brief recap of the conversation.  
Let's Talk About the Current Economic Conditions and Spending Behaviors.
With the 2022 Vegas shows in our rearview mirrors, we asked Erich how he viewed the general sense of optimism being reported across all of the week's events. Erich made the analogy of being a guest at a really successful rehearsal dinner and then someone just said there was a "chance of rain" for tomorrow's wedding. When the $11Billion/week that was normally spent on travel during pre-pandemic times left consumers with disposable income with which to purchase jewelry, people were pleased with the boom their businesses began experiencing, but there is an underlying sense of concern over what feels like an imminent recession.
Tracking reports from the Federal Reserve Economic Data (FRED), Erich pointed out a unique trend. While the employment rate is down considerably, which traditionally is an indicator that people feel good about the economy, the sentiment towards spending is also down. This type of "uncoupling" hasn't happened in this country since the late 1960's/1970's.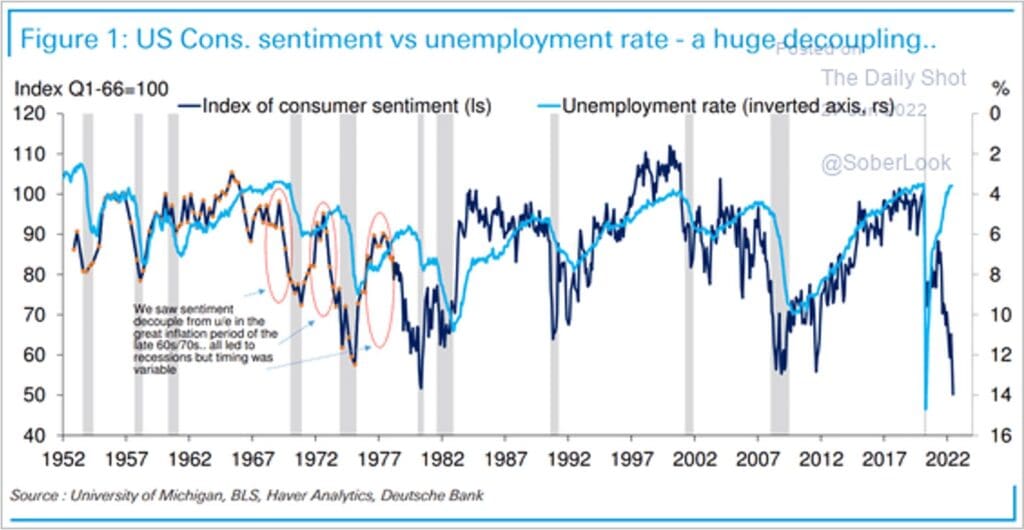 Erich contrasted the FRED reports with buying reports collected by JBT. While personal savings per month are back down to pre-pandemic levels, payment trends for our industry are up. Adding another level of complexity, total card spending trends took a dip in May of 2022 among three income groups (below $50k to above $125k median household income).
What's Happening at Retail?
Consumers, retailers and suppliers were, in Erich's words, "kicked in the butt" to get online, and in that way, they are now aligned in terms of interactions. Looking at google analytics, from March to May of 2020, "jewelry near me" searches on google were significantly outpaced by searches simply for "jewelry." The explosion of online stores that are easy to set up has contributed to a broader online globalization of fine jewelry, yet interestingly, searches for "jewelry near me" and "jewelry" were neck and neck in the months leading up to Christmas/Hanukah and Mother's Day, the two biggest jewelry buying holidays of the year. This may be an indication that, for those really special investment purchases, consumers still look to their local trusted jeweler.
Increased time on the internet coupled with a plethora of information that's available online has led to greater transparency in the consumer/retailer relationship, and a hybrid model of shopping will continue, with consumers researching options online and going into stores to make their final purchasing decisions.
Erich suggested looking at trends.google.com to find out what search terms related to jewelry are currently trending, but he speculated that it was "bridal" and/or "engagement."
Inflation, substantial increases in the cost of flights as well as a major spike at the gas pump means that designers and brands may be more selective when scheduling trunk shows and personal appearances. There will be a greater focus on quality over quantity.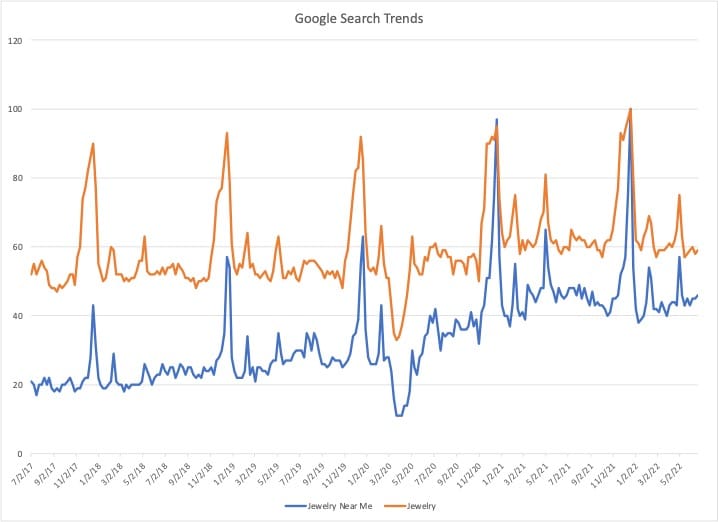 What's Keeping Retailers Up at Night?
For those that used the pandemic to retool their inventories and business models, it is the same for all retailers: getting good labor and maintaining an adaptive stance ready for anything. For those who got a little bit over their skis rebuilding inventory, by definition they probably are less worried, but will be the first to feel the impacts of any downturn.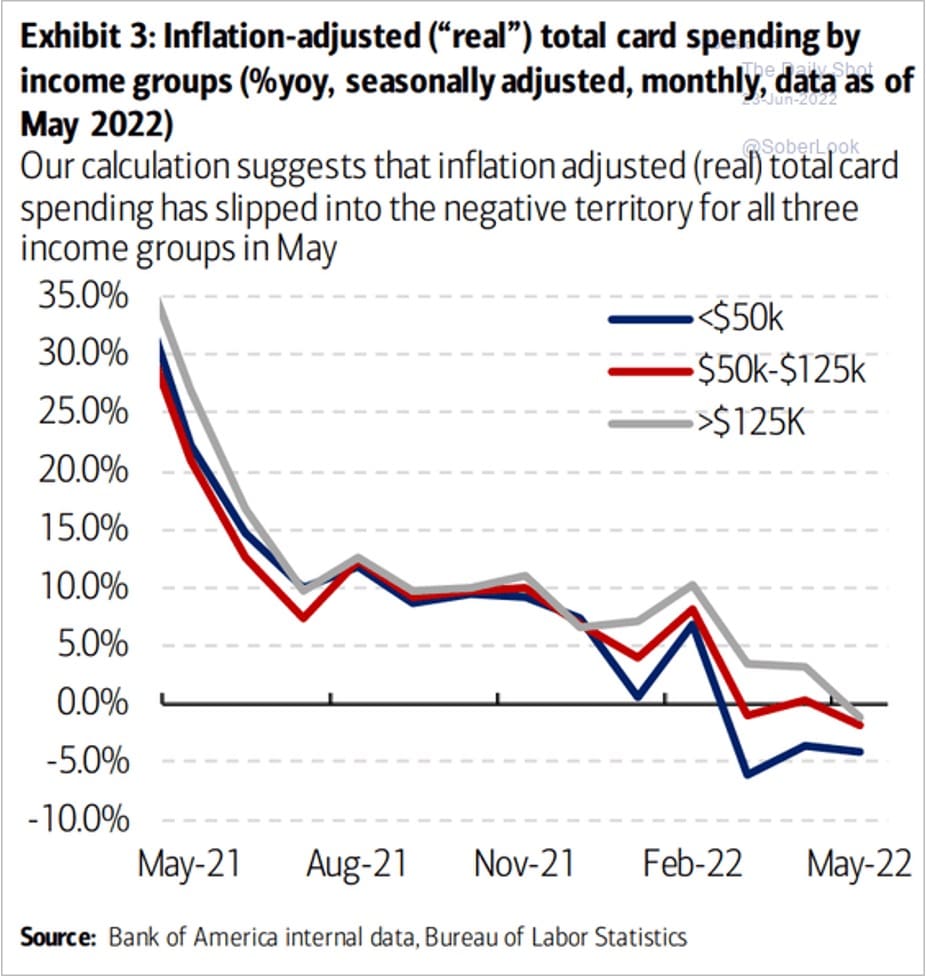 Let's Look at the Supply Chain.
Asked if supply chain issues are still impacting our industry, Erich referenced the most recent lockdowns in China. These meant that anything from production of jewelry to sourcing of boxes was completely hindered and forced some businesses to find new suppliers. It was yet another reminder of the importance of staying nimble and diversifying one's resources.
What About Lab Grown?
According to the Las Vegas Market Week trend report released by global trend-forecasting agency, WGSN, the 2022 JCK event played host to 130 Lab Grown exhibitors. Erich believes that Lab Grown is here to stay. Whether Lab Grown has opened incremental new streams or it's more of a substitution, the upward trend will continue. The interest in Lab Grown has been fostered by younger generations who are concerned about both ethical and environmental considerations, and the greater increase in Lab Grown has allowed consumers a more "apples to apples" comparison with mined diamonds. Again, an increase in transparency for our industry.
Speaking About Ethics…Has the Situation in Ukraine Impacted Consumer Concerns About Diamonds?
Erich pointed out that ethical considerations were already on the rise prior to Ukraine, which was reflected in the strength of the various ethical-sourcing/practices organizations out there. Specifically with Russian's invasion of Ukraine, the Jewelers Vigilance Committee (JVC) has stepped in to provide clarity and comprehensive understanding of the ongoing situation.
Let's Talk BIPOC (Black, Indigenous, People Of Color)
In the summer of 2020, as with many industries, our industry was resounding in their voiced commitment to increasing diversity, equity and inclusion, specifically among BIPOC. Erich mentioned the Black in Jewelry Coalition that was formed in response, the wonderful work the organization is doing, and the industry-wide support it is receiving. He encouraged all viewers to look into the organization and support it however they can.
COUTURE is also doing its part to maintain the momentum towards increasing opportunities for BIPOC. The COUTURE Diversity Action Council (DAC) was formed in the summer of 2020 to serve as a catalyst for change by leveraging the strength of its community. Its primary tenet was its inaugural mentorship program, launched in the fall of 2020. This two year program, which was enhanced by weekly or bi-weekly education sessions that augmented the contributions of its mentors, culminated in a partnership with De Beers, who provided the 13 participating designers with De Beers diamonds with Code of Origin, as well as a budget for production. "The Radiance by COUTURE," a salon space on the show floor of COUTURE's 2022 event, played host to the launch of these capsule collections.
Speaking of Trade Shows….
Erich believes that trade shows are instrumental to the success of businesses in our industry. In addition to the importance of being able to see, touch and try on jewelry in person, our industry is a social one, and trade shows provide opportunities beyond transactional. Alliances and friendships are formed, new collections are onboarded with retailers, and networking and education allow for greater expansion for both businesses and individuals.